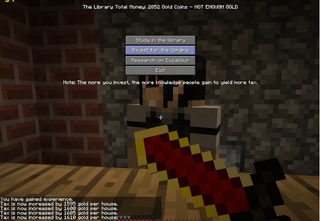 Taxation
is a game mechanic within your kingdom, which involves the player reciving
gold
from his kingdoms homes, at intervals of around half a minecraft day/night cycle (9.5 to 10 minutes IRL) [citation needed]. Taxation can be increased at your
library
, a Tier III Building, at a rate of 5 extra gold per home, per inverstment; investments are unlimited. Investment cost, however, are not.
HOW DO YOU COLLECT YOUR TAX? PLEASE EDIT!
Ad blocker interference detected!
Wikia is a free-to-use site that makes money from advertising. We have a modified experience for viewers using ad blockers

Wikia is not accessible if you've made further modifications. Remove the custom ad blocker rule(s) and the page will load as expected.